We hope you enjoy serenity, peacefulness, tranquility, and solitude while you're at Kruger Cottage. For those who are looking for a more active vacation, there are many sights and adventure nearby.
Animal watching
Enjoy seeing a variety of African mammals and birds without ever leaving Kruger Cottage!
Expect to see an abundance of wildlife at closer range than you thought possible. Watch enthralled as zebras, giraffes, monkeys, baboons, warthogs, bush babies, impala and kudu walk right through your back yard. Rest assured, however, that the dangerous carnivores such as lion, hyeana and leopards as well as elephant, are not present around the houses.

Within easy walking distance are multiple observation sites along the Crocodile River affording views into the world-famous Kruger National Park. 

Further enhance your vacation with day and night game drives into the Kruger National Park (KNP).  Crocodile Bridge gate is approximately 20 minutes away and the Malelane entrance iis a 40 minute drive.  Night drives must be arranged in advance with a guide from the KNP... well worth it as you will usually see nocturnal dwellers of the park that you otherwise wouldn't see.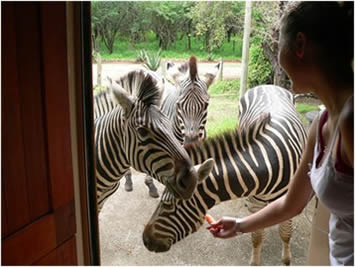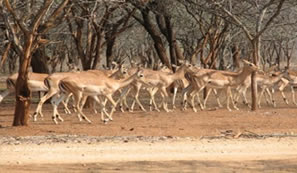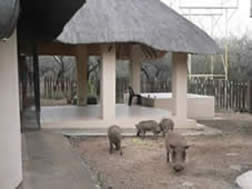 Bird watcher's paradise
Kruger Cottage and surrounding area provides a bird watcher's paradise. Bring binoculars and a bird identification book!
Birding in Kruger Park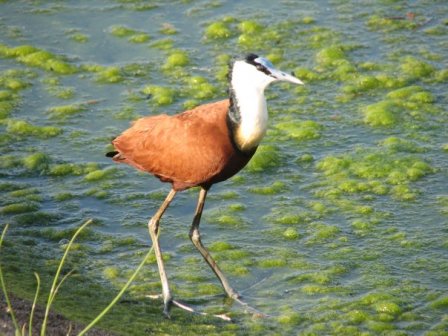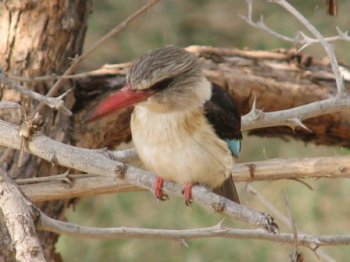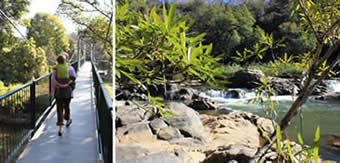 Botanical garden
This beautiful South African botanic garden is 159 hectares, with a cultivated garden area (about 25 hectares) surrounded by a larger area of natural vegetation (SSour Lowveld Bushveld). The Crocodile River and Nels River flow through the gardens, creating some spectacular cascades. The garden is home to over 600 naturally occurring plant species. Read more...
Elephant-back safari
Enjoy a fascinating experience with the elephant whispers. Interact with these majestic animals up close with a range of activities, including elephant back rides and interacting with the elephants.
Golf
For the golf enthusiast, combine sport with unique wildlife viewing opportunities. Enjoy two different 9-hole courses in nearby Malelane and Komatipoort. An 18-hole course is available in Nelspruit. Combine a game-watching drive with a visit to the Skukuza Golf Course, located within Kruger National Park.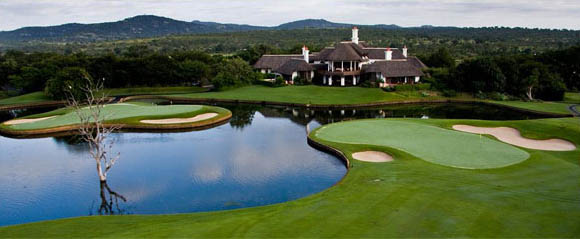 Or challenge yourself on an 18-hole championship course designed by world-renowned golfer, Gary Player. Golfing hazards take on a new dimension at Leopard Creek, for much of the water is home to families of hippos and the magnificent creatures for which the river is named – Crocodiles.
Working closely with the Kruger National Park and nature conservation authorities, the golf course was specifically designed to blend in with the natural surroundings. It is a paradise for bird-watchers, a challenge for golfers and an opportunity to see and experience all the beauty of the bushveld.
Leopard Creek is accessible by invitation only.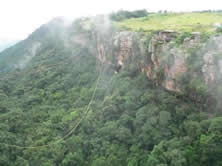 Gorge swing
Take an exhilarating ride across the Gorge at Graskop...the longest gorge ride in the world!
Here, Kruger Cottage manager Joan Demont enjoys the experience.
Horse riding
Anyone serious about exploring South Africa on horseback and making it a big part of their holiday should head to the province of Mpumalanga. Stables and lodges operating out of or near to Graskop, Pilgrim's Rest and Nelspruit offer multi-night excursions leading you deep into the wilderness and offer prime game viewing of wildlife along the way.
For more information: Kaapsehoop Horse Trails | Induna Adventures
Neighbouring countries
Kruger Cottage is close to the borders of both Swaziland (65km) and Mozambique (30km). Mozambique's capital city, Maputo, is a 2 hour drive. Allow extra time to cross the border if you are traveling at the end of the month (pay day) and workers are traveling between countries.
Welcome to Swaziland
Mozambique - places to stay, things to do
Scenic drives
The wonderful Summit route with God's Window, Bourkes Pot Holes, Sudwala Caves, the Mac Mac Falls, and other attractions, is but 90 minutes away and definitely worth a visit.
Scuba diving
To the east of Kruger Cottage lies the coastline of Mozambique.  Although it will require more than a day-trip, if scuba-diving is your passion, you'll enjoy the experience afforded by the wonderful staff of Liquid Adventures.  In addition, the centre offers kayaking, surf school, kitesurfing, snorkelling, diving and Whale Shark encounters.


Dive adventures
Experience the best of Mozambique diving, from large pelagics to nudibranchs, Mantas and Whalesharks. 
Registered Padi Dive Centre, with on site pool
Courses from Discover Scuba up to Dive Master
2 x 8m Superduck dive boats
full range of rental gear
Outstanding safety record
World class dive sites with safe, friendly dive staff
foreign languages welcome
Dive and ocean safari packages a must
Restaurant and bar facilities, with a great view
Daily Ocean safaris
Experience the beauty of snorkelling with Whalesharks, Mantas, Dolphins and other creatures of the blue. Trips depart daily at 10h30. All trips led by qualified divemasters.
Visit the Unseen
Liquid Adventures also runs kayak safaris to the islands in the Inhambane Lagoon, a special experience.
Tiger fishing
For the angling enthusiast, Tiger fishing is available in nearby Komatipoort. Tiger fish are renowned for their fierceness and are regarded by many as being the best freshwater game fish in Africa.
For more information: http://nkomazisafaris.co.za/abouttigerfishing.html
Waterfalls
Waterfalls abound...
Lone Creek Falls
Lisbon Falls
Berlin Falls
Mac Mac Falls
Maria Shires Falls
Bridal Veil Falls